Cronos – Designed for eternity
It doesn't take trends to set new standards. Inspired by his grandfather's clock, Oliver Jörger developed the unique "Cronos" series of fittings and accessories. Its trademark is the luxurious fluted design and the rosette.
Sometimes it's the little things in everyday life that make for something special. It was his grandfather's watch, or rather the crown of this historic pocket watch, that inspired Oliver Jörger to create the modern and unique design of "Cronos".
Clarity and modern elegance characterise this collection with its luxurious appeal. Subtle grooves adorn the surface of the "Cronos" fitting and define its modern and beautiful form – from base body to spout. The softly tapered shape of the body counteracts the strict and straight lines.
"Cronos" offers a rich variety of fittings for washbasin, bidet, bath tub and shower, which can be combined with two variants of handles: the elegant winding lever handle and the decorative cross handle.
The unique design language of "Cronos" has been realised in all accessories and components of the collection. The elegantly fluted rosette plays the central role as a characteristic and decorative design element. Stylish, hand-finished surfaces complete the modern design and lend the bathroom a timeless character.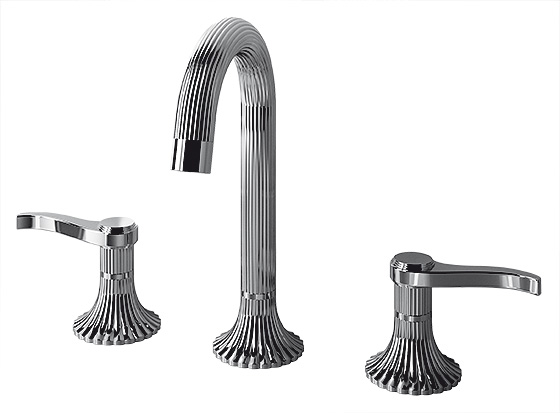 Cronos – Surfaces and Finishes
Finishes refine taps and accessories harmoniously and in the correct style. The final polish gives the design its indiviuality and exclusivity. Only the finest materials, worked by hand by specialist craftsmen in Germany, are used in the sophisticated surfaces. Every finish gives the style of the bathroom an additional, emotional impulse - from stylish or elegant to warm or antique. An extraordinary range of thirteen different surfaces create a distinctive, authentic finish.
Handle options