July 1, 2015
Cronos Crystal – timeless significance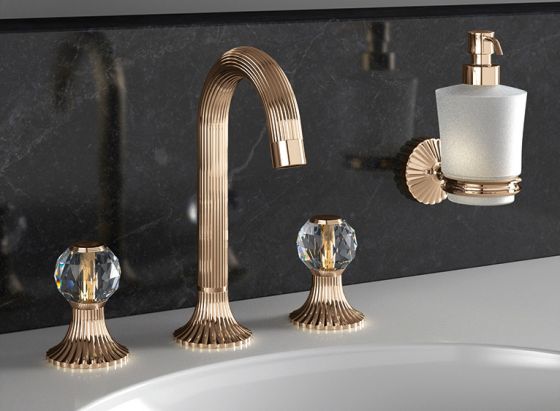 A guiding principle of the company philosophy is: As one with tradition – committed to the modern. This idea is apparent in the "Cronos" range of taps and accessories in a very special way. The expressive but nevertheless classical feel offers an alternative for design lovers, who appreciate timeless significance.
The unique combination of classical elements with a modern touch is defined by Jörger as a "traditional design". The fluted crown of a historic pocket watch – inherited from his Grandfather – gave Oliver Jörger the idea for the design elements of the "Cronos" range of taps and accessories.
The spirit of a highly civilised era is reflected in the clarity and classical elegance of this premium collection. A striking characteristic is the aesthetically curved form of the washbasin fitting.
Similar to the fluting of ancient pillars, fine grooves are drawn across the outlet and the base. The strict straight line of the upper curve, balanced by the soft form of the base.
"Cronos" offers a wide range of fittings for washbasins, bidets, bathtubs and showers as well as a variety of bathroom accessories.
The distinctive form, apparent in all components, characterizes the appearance of the bathroom, creating a unique character.
Alongside the straight-lined levers of the fittings, we will also be presenting rounded, faceted crystal handles from SWAROVSKI at ISH this year – allowing the range to set luxurious accents in the bathroom.
True to style, we offer surface finishes in chrome, platinum, platinum matt, sunshine, sunshine matt, bronze, mink, mink matt, gold, antique-gold and the new variety, antique-silver.
The "Cronos" series represents an individual, sophisticated style of living for people who appreciate something a little special.
---
Downloads
---