March 14, 2017
ISH | EMOTIONAL THEME WORLDS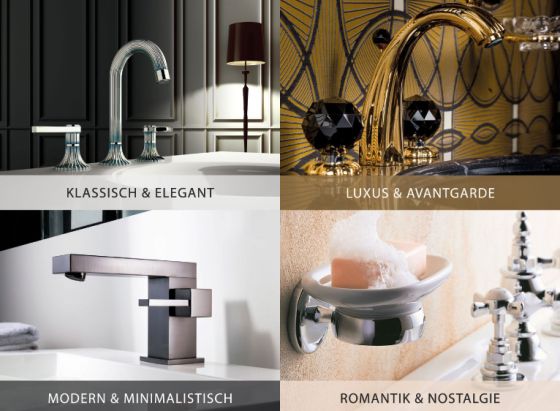 Where does preference in taste originate from? What is design oriented upon? Architecture has always played an enormous role in answering this question. Is it not the impressive modern or historic buildings which continually inspire us? The sub-concious fi lters through a myriad of geometric forms, colours and elements to determine those, which fi nally form the individual style of each one of us. It is in this way that emotional design styles are created.
EXPERIENCE DESIGN STYLES

At ISH 2017 and on their new homepage, Jörger Armaturen- und Accessoiresfabrik presents four theme worlds: modern and minimalistic, classic and elegant, luxurious and avant-garde. This targeted message enables an emotional introduction to range of products. Design and form elements of the sophisticated products are matched throughout the series, fulfi lling the wide range of tastes and preferences. Any visitor to the homepage should find themselves eager to explore their own theme world.
"Our 100 year company history has been moulded by the connection between tradtition and spirit of the time", according to Oliver Jörger, managing director. "Our added value to inspire bathroom designers and transport them to a theme world, where they can feel the experience at first hand. Rounding off their lifestyles in a harmonious way, we show them examples of how they can create their own individual ambience in the bathroom". Which fixtures, accessories and wash untis can be combined? Which type of tile, which colours, materials and decorative articles highlight the overall impression?
---
Downloads
---