July 10, 2020
Belledor - Choice porcelain in full bloom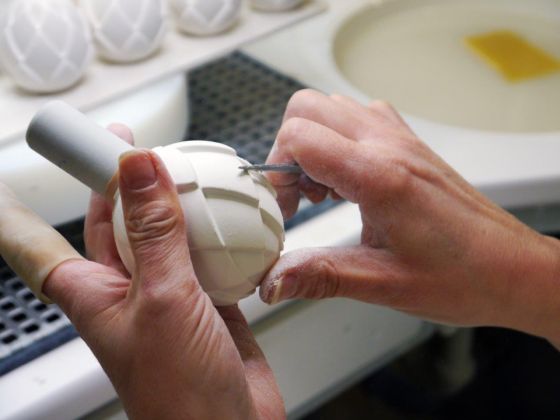 On the occasion of the 110th anniversary of the JÖRGER family business, Oliver Jörger designed a timeless tap collection. The noble and valuable character of porcelain inspired him to create the new "Belledor" fittings.

To achieve the idea of bringing out a new handle made of timeless, luxurious porcelain, Jörger turned to the legendary manufacturer Fürstenberg.
"From the outset it was clear to us that we would only be able to complete this project with a specialist who works with the same enthusiasm and precision as we do," says Oliver Jörger. "We were able to obtain the services of the FÜRSTENBERG porcelain manufactory, a company with a rich history and tradition, as a production partner for the decorative porcelain elements of our products. FÜRSTENBERG shares the JÖRGER philosophy of uncompromising quality and hand craftsmanship, making them the ideal partner for this project."
"Belledor" porcelain decorative handles from Fürstenberg
Fine porcelain has been produced with passion and precision in the Fürstenberg porcelain manufactory for more than 270 years. The detailed perfection they achieve is only possible because even today the majority of their porcelain is manufactured by hand and in small batches. Fürstenberg is Germany's second-oldest porcelain manufactory and a leader in its sector, with an impressive track record of quality and design prizes, such as the recent German Design Award 2019. Fürstenberg is constantly on the lookout for opportunities to work with artists and designers, because fresh inspiration is important to them. One of these designers is managing director Oliver Jörger, who designed the "Belledor" series.
You can get to know some of the necessary steps in the involved and somewhat meticulous porcelain handle production process for the "Belledor" series here. Each decorative bloom is molded separately, with expressive relief elements added at the end by hand.
Six different handle variations are available for our customers to choose from:
1.    White
2.    Black
3.    White/gold
4.    Black/gold
5.    White/platinum
6.    Black/platinum
Jörger uses use 24-carat gold to embellish the "white/gold" and "black/gold" handles. To embellish the "white/platinum" and "black/platinum" handles, we use pure platinum. Each individual handle is embellished by hand, so is a unique work of art.
Elegant and stylish accessories in the same characteristic style complement the entire "Belledor" bathroom series.
---
Downloads
---