August 26, 2020
Freestanding bathtub fittings: How to make the right choice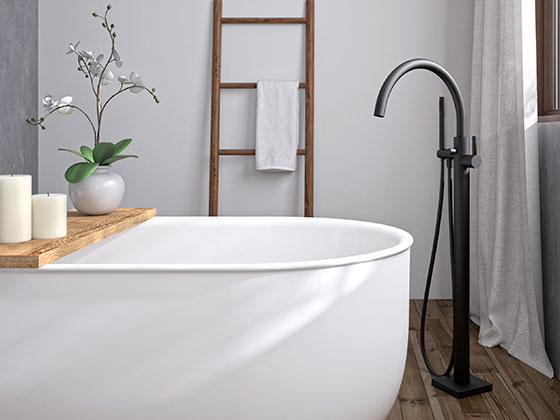 Freestanding bathtub fittings are found increasingly in the projects of our design partners worldwide. And not only in luxurious bathrooms, but also in those that are furnished with aesthetic as well as practical and functional aspects in mind.
The freestanding faucet in a modern bathroom looks like a fresh design solution that has not yet reached the peak of its popularity. However, this furnishing idea is not all that new. Just think of the Victorian era bathrooms or the interiors of Art Deco.
Inspired by the past, modern interior designers and fittings manufacturers are actively expanding the design and application possibilities of freestanding bath fittings.
When installing and using a freestanding bathtub faucet, you should consider the following factors.
Choose a freestanding faucet for your bathroom, if
you have a freestanding bathtub or a designer bathtub with narrow tub sides or curved tub edges that do not require any special fittings to be installed and attached.
the bathroom is spacious enough to fit floor elements.
the walls of the bathroom consist of a design panel or complex ornamentation, whose pattern may interfere with the installation of the tap and accessories on the wall.
The water can be supplied and drained at any point in the room.
Freestanding fittings are divided into the following types:
By the method of water supply: bathtub faucets with single tube or double tube pipes; the latter for the separate supply of cold and hot water
According to the type of control: bathtub faucets with a single lever or two-handle operation. With the first type you can regulate the flow and the optimal water temperature with one hand. With the second type you have to turn separate valves.
It is highly recommended to plan and communicate the installation of a floor-standing faucet in advance during the construction phase and when planning the budget, as it is almost impossible to make changes after installation.
Two other factors play an important role in the choice of model and the article number of the mixer: the length of the spout and the width of the tubs rim to ensure that the water flows directly into the shell and that no splashes occur on the rim.
In Jörger's design series you will find variations of freestanding bath fittings to suit every taste.
---
Downloads
---