October 1, 2012
PLATEAU – Mix and Match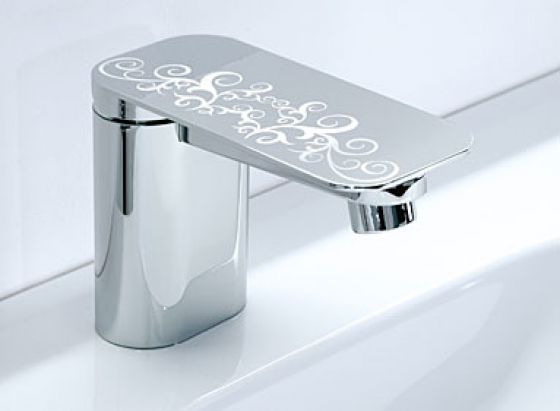 "Plateau" series extended / New patterns and seven colours emphasize the individuality of this range.
The modern, no-frills design of the "Plateau" series creates a convincing picture not only in private bathrooms, but also in hotels and restaurants. The generously sized lever offers plenty of room for individual, imaginative designs.
The elaborate patterns are created by laser. The range of patterns has been extended and now consists of 11 standard designs. Playful, classic, retro or with a more floral design, every taste is catered for. Furthermore custom designs such as emblems or lettering are possible.
Another highlight of this series is a new range of colours. Alongside a variety of high quality surfaces the main body with spout is now available in matt white, matt black and seven strong matt colours: yellow, orange, turquoise, pink, purple, apple green and pale blue.
They create an avant-garde ambience in every bathroom. If desired, different colours can be chosen for wash unit, bath tub and shower thereby setting a modern and truly colourful accent. The attractive patterns and colours offer a great deal of flexibility in planning a bathroom and uniquely mirror the owner's personality.
---
Downloads
---