June 4, 2020
EXAL – LUXURY IN MATT BLACK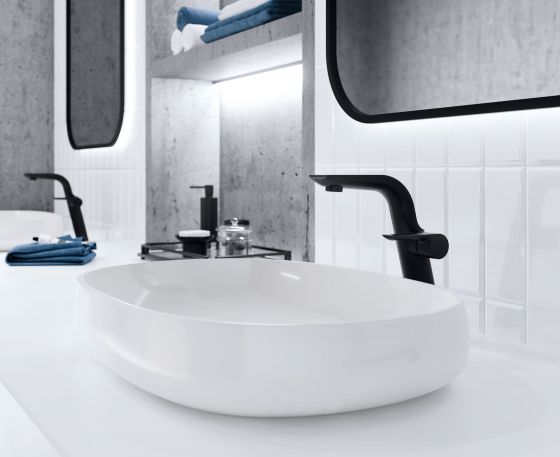 Jörger's new EXAL fittings and accessories series celebrated its premiere in 2019 and has been continuously developed and expanded since then.
With its diverse and innovative range of colours, luxurious yet modern forms and expressive tap design – shaped like the silhouette of a crane in flight – EXAL quickly gained popularity among both fans of minimalistic as well as more extravagant design.
At the beginning of 2020 the product line was already undergoing further development, with new products and accessories added.
The current range of colours for EXAL – with 18 different surfaces – from traditional chrome and matt nickel, right to innovative surfaces in extravagant colours.
Sometimes the choice of finish for EXAL products can radically alter the visual appearance of the model, changing the pricing of the product from a medium-priced to a high-priced one.
A genuine design classic, a matt black surface, reminiscent of the "little black dress" in the fashion industry, enhances the elegance and delicateness of the form and the refined contours of EXAL products, transforming them into exclusive accessories for luxury bathrooms of the highest standard.
A central element of the series is the EXAL single lever mixer, which impresses with the quality of its design and functionality:
With its convenient projection of 153 mm and height of 160 mm it is very comfortable to use
The aerator with adjustable angle allows the water jet to be perfectly adapted to the basin
Energy-saving – the lever's standard position is set to pure cold water, allowing energy-saving use for most needs
The ceramic cartridge – independent of pressure, easy to use, low-noise
Even a detail such as the arrangement of the lever on the side fulfils a purpose – with the water control on the side, the body and the spout remain clean longer, eliminating the need for excessive cleaning
The product line's design is consistently applied throughout the extensive bathroom assortment for washbasin, tub, shower (surface and in-wall mounted) and bidet and matching accessories (toilet paper roll holder, towel bar, cosmetic mirror, etc.).
To meet the needs of customers and satisfy current trends in bathroom design JÖRGER has expanded the range of accessories. As of 2020 most of the EXAL series bathroom accessories are available as both wall-mounted as well as free-standing model: tumbler holder, soap dispenser, toilet brush holder set, etc.
The most recent newcomer is a wall-mounted soap dispenser with hygienic and easy operation from below. The wall-mounted soap dispenser can be conveniently filled at the top, operated at the bottom, and doses an ideal amount of 0.5 ml/press. More about the series EXAL.
---
Downloads
---