August 27, 2020
Delphi – Nostalgic Design Classic for the Bathroom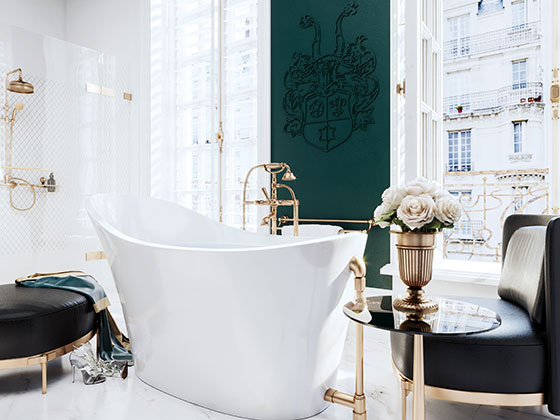 The "Delphi" series is part of the classic range within the design world of Jörger.
Developed as early as 1998, this classic range of fittings and accessories still impresses today with the authenticity of its historical and artistic appearance combined with state-of-the-art technology. It is not without reason that "Delphi" is one of the most successful series in Jörger's classic programme range.
"Delphis" classic, timeless shapes and a wide colour spectrum of a total of 19 surfaces open up a wide range of design possibilities. The series can be easily integrated into interiors of very different styles.
From the late Renaissance to the early modern – the decorative variations of the "Delphi" series cover a range of different styles:
Fittings with metal cross handles embody the classic English or Parisian style in the bathroom and certain types of décor such as imaginative furnishing options in the style of retro-futurism.
Fittings with lever handles in dark, polished wood are suitable for rooms in the Art Deco style. The design creates a cosy atmosphere – whether in a holiday home, chalet or country house in Provence.
Fittings and accessories with white plastic lever handles pay homage to the era of early modernity.
Since 2020 there are two new "Delphi" design variants in the Jörger range:
Fittings and accessories with metal lever handles are a further interpretation of the English style of the first half of the 20th century.
Lever handles made of white porcelain covered with a fine net of "Krakelee" give the bathroom a certain vintage look.
The fitting in the vintage look provides a nice example of customizing, which is a major focus at Jörger.
The variant was realised and custom-made in a private project according to the customer's wishes. In the end, however, the design solution with its unique manufacturing technique was permanently added to the programme of Jörger. More about the series "Delphi".
---
Downloads
---