November 18, 2020
"Charleston Royal" brings the Bauhaus style into the bathroom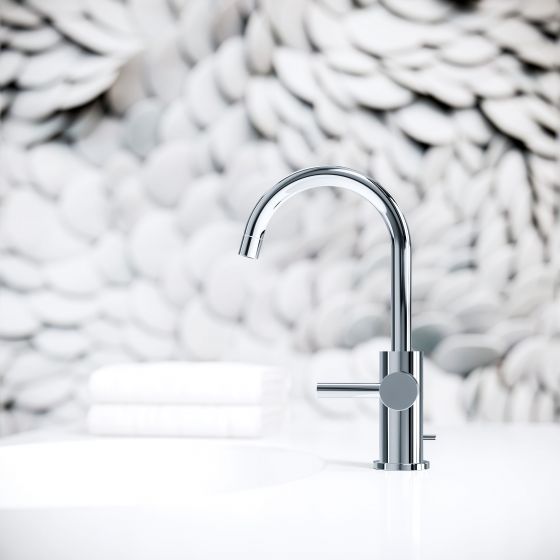 Bauhaus in the bathroom? – There are many fittings available today which skllfully replicate the Bauhaus style.
And then there are bathroom taps, which Bauhaus literally invented in the bathroom: Welcome to "Charleston Royal", from Jörger.
Design "Charleston Royal" – inspired by Bauhaus style
The source of inspiration for the simple, clear design of the "Charleston Royal" fittings and accessories series has been the legendary Bauhaus style in its restrained, elegant and functional aesthetics, as exemplified in an icon of furniture design – the cantilever chair by Ludwig Mies van der Rohe.
Based on the basic shape of the circle, the elegant, linear series is one of the timelessly modern mixer classics.
The taps elements and the diverse accessories consistently follow the clear, round design. The sleek, sleek arch conveys timeless elegance and is the style for the entire bathroom range from washbasins, showers and bidets to bathtubs. 
"Charleston Royal" – typical Bauhaus style; also in terms of color
Bauhaus stood and stands not only for clear lines, but also for a reduced color scheme, expressed, for example, in the use of the so-called "achromatic colors" white, gray and black.
"Charleston Royal" is available in 15 exclusive, handcrafted surfaces which refine the fittings and accessories and complete the classically modern bathroom design. The spectrum ranges from chrome to mink, platinum, precious brass in a glossy or matt finish to matt white and matt black. Recently, rose gold was added in a glossy and matt finish. 
"Charleston Royal" – the original
"Charleston Royal", a modern classic in the Jörger range for over 30 years, was itself an inspiring force. Today it is rightly considered an icon of bathroom design. Often imitated, but never matched. More about the series "Charleston Royal".
18 November 2020
ABOUT JÖRGER
Joy of tradition and innovation since 1909. JÖRGER Armaturen- und Accessoiresfabrik GmbH, based in Mannheim, was founded in 1909. Oliver Jörger is the fourth generation to run the international family business. As a designer, he has been personally responsible for the Jörger design for over 20 years.
Design und Manufacturing. Outstanding design and highest-quality, handcrafted production in Germany characterize the company's values.
The Aesthetic Bathroom. As a manufacturer of exquisite bathroom fittings and accessories, Jörger designs and develops all-round concepts. Together with fittings and accessories for wash basins, showers, WC / bidet and bath tub, Jörger collections form a completed work of art.
Design Worlds. The program includes a variety of very different worlds of style and experience: "modern and minimalist", "classic and elegant", "luxurious and avant-garde" and "romantic and nostalgic". In this way, the design manufacturer meets the preferences and tastes of different cultures around the world.
PRESS CONTACT
JÖRGER Armaturen- und Accessoiresfabrik GmbH
Angelika Böhm
Communications Manager
Seckenheimer Landstraße 270-280
68163 Mannheim | Germany
Tel.: +49 621 41097-28
angelika.boehm@joerger.de
www.joerger.de
---
Downloads
---