December 1, 2014
TURN receives two distinctions in the "Plus X Award"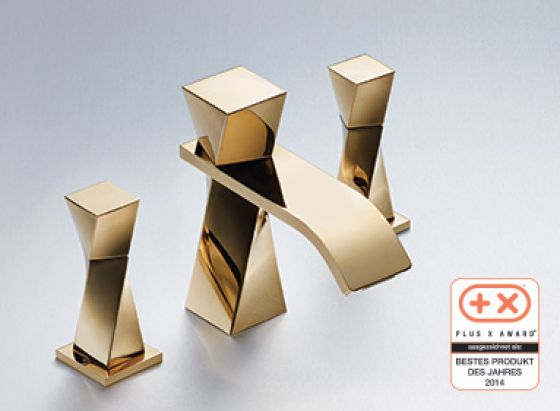 The innovative Jörger series "Turn" is awarded not once, but twice with the international, prestigious "Plus X Award". The series receives the seal of quality for "High Quality and Design" and is also distinguished as "Product of the Year 2014".
The jury was won over by the outstanding design of the series, which displays an unusual combination of art and functionality. Inspired by the architecture of the Infinity Tower - today the Cayan Tower, in Dubai - Oliver Jörger designed a fitting in which the square body of the unit turns 90 degrees on its own axis. The dissolution of the strict geometric form creates a dynamic product and an expressive, sculptural effect.
A special challenge is to transform the sophisticated technology of the design into an exclusive, functional product. This requires the highest precision during production and is only possible with a special 5 axle CNC machine.
The Seal of Approval "High Quality and Design" – one of the most comprehensive distinctions – is awarded to a product with above average innovative technology, which excels in functionality, quality and durability.
In this category, the "Turn" fitting scores, above all, in its well-engineered technical aspects and ease of use. The lever consists of an innovative, low maintenance joystick cartridge with ceramic discs, which is integrated via a spring mechanism into the body of the fitting. An aerator, fitted into the faucet, creates a soft, even flow of water, enabling sustainable water saving.
The winner of the innovation prize, "Plus X Award " is chosen by an international and independent jury of specialists from 25 industries in seven categories. It distinguishes products, which stand out from others on the market through their extraordinary characteristics and design.
More about the "Turn" fittings and accessories series from Jörger.
---
Downloads
---