Rainheaven – Multifunctional XXL Rain Shower
Welcome to the Home Spa! Jörger's Multifunctional Rain Showers Ensure a Perfect Shower Experience and Pure Wellness.

No matter if it's as a rain shower, left-hand or right-hand waterfall, or a fine spray mist – Jörger's multifunctional head showers for ceiling installation represent a new general of smart rainfall shower systems that consider personal needs and preferences while ensuring the perfect shower experience with up to four different jet types.
The 700 x 500 mm or 610 x 610 mm ceiling showers made of 2 millimetres thick stainless steel seamlessly merge into any bathroom interior, ensuring an attractive and elegant look in the room.
16 exclusive, hand-processed Jörger finishes are available for decorative refinement. Additional options are available upon request.
The hand-polished rectangular recessed rain shower heads can be combined with any bathroom tap and accessory series by Jörger. All models are equipped with a scale protection system.
Jörger offers "Rainheaven" rain showers with chromotherapy option for your personal wellness programme in your home spa. The chromotherapy range comprises six colours for complete relaxation and mental recovery: violet, blue, indigo, yellow, green, and orange.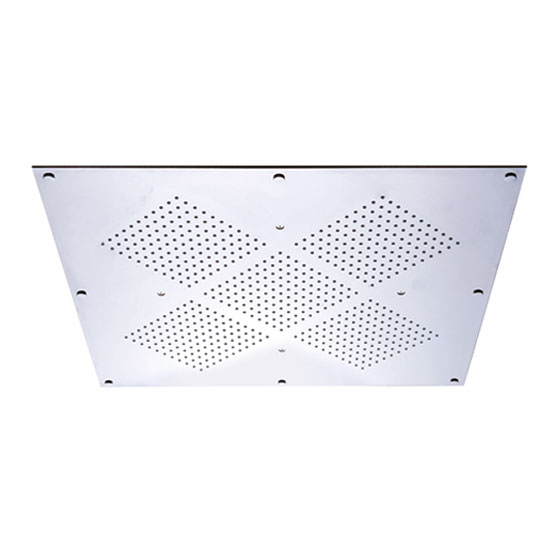 Rainheaven – Surfaces and Finishes
Finishes refine taps and accessories harmoniously and in the correct style. The final polish gives the design its indiviuality and exclusivity. Only the finest materials, worked by hand by specialist craftsmen in Germany, are used in the sophisticated surfaces. Every finish gives the style of the bathroom an additional, emotional impulse - from stylish or elegant to warm or antique. An extraordinary range of ten different surfaces create a distinctive, authentic finish.
Discover more series from the Jörger product range