July 4, 2016
Empire Royal Crystal – Range of taps sets royal accents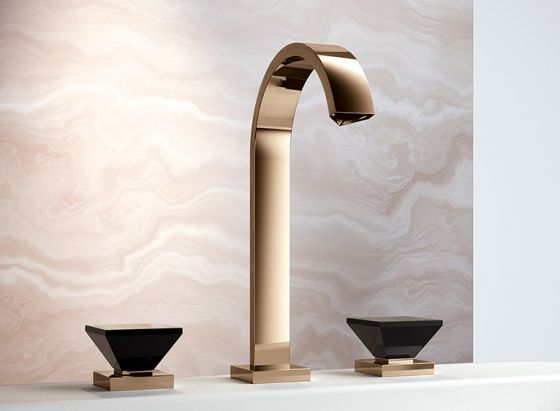 Subtle clarity and practicality characterize the "Empire Royal Crystal" series. The aesthetically curved outlet of the tap lifts from a square base element. The covered flow control forms a soft, pearling stream of water.
The aesthetic highlight of this series are, without doubt, the sophisticated crystal handles. In contrast to the simple handles of the "Empire Royal" series, the crystals produce a very special, emotional effect. Their fine polish harmonises with the subtle design of the fitting elements.
Depending on the finish and the colour of the crystals – black and white have been introduced to the range – the impression of the fitting is defined in different ways.
The surface finish in "sunshine" combined with black crystal handles creates an exciting contrast, turning the tap into a modern work of art. In combination with clear crystals, the tap exudes a stylish, luxurious feel.
The series of taps is available with the following surfaces: chrome, platinum, platinum matt, sunshine , sunshine matt, bronze, mink, mink matt and gold.
---
Downloads
---