May 1, 2013
Turn – From sculpture to tap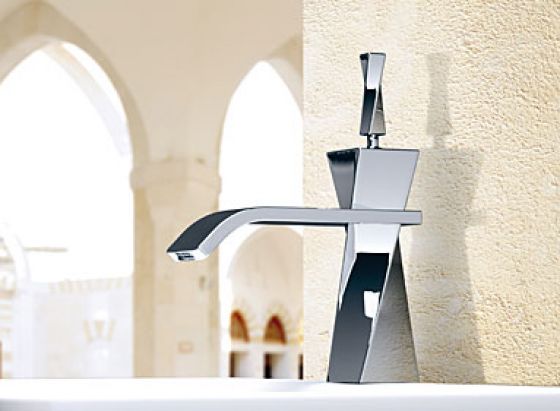 The new tap "Turn" finds Jörger picking up on modern architectural trends. Inspired by such spectacular constructions as the "Turning Torso in Malmö" or the "Infinity Tower in Dubai", the quadratic body of the tap turns 90 degrees on its own axis.
Detached from a rigid geometric form the dynamic design is highly expressive and gives the tap an almost sculptural feel. The elegant, artistically wound form is continued in the lever. Following current trends, this consists of a quadratic base with a joystick.
The spout of the tap has been fitted with an aerator to control the flow of the water, allowing it to fall softly onto the hands. The single lever mixer is also available as a 3-hole version, as well as a single lever wall-mounted mixer. The matching bath tub and shower versions are available in the 4-hole option, as single lever, exposed or concealed mixers.
Jörger offers a fine range of accessories, with a multitude of combination possibilities to round off and complement this series of fixtures. These skilfully created fixtures are available in all high-quality Jörger surface finishes and colours. "Turn" sees Jörger consequently continuing the combination of art and functionality in the manufacture of fixtures.
---
Downloads
---