March 3, 2014
CRONOS – Classically aesthetic fittings, yet presented in a modern design.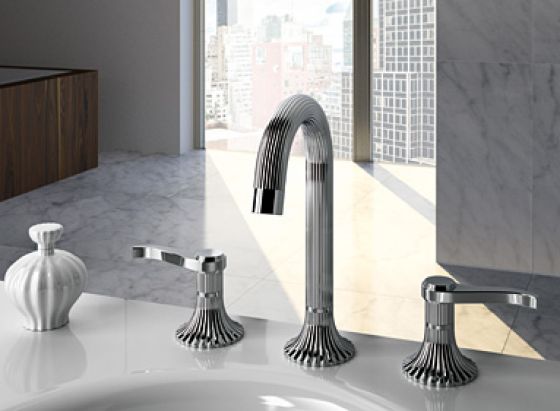 Sometimes it is the inconspicuous parts of the daily routine which make such a difference. The fl uted crown of a historic pocket watch – an heirloom of his grandfather's – inspired Oliver Jörger's ideas for the design of a new range of taps and accessories: "Cronos".
Clarity and classical elegance characterize the design of this premium range. Its distinctive feature is the aesthetically curved outlet of the wash basin fitting. Fine grooves fl ow across the outlet and the base, reminiscent of ancient stone pillars. The stark straight line of the curved fitting is balanced by the softly finished form of the base.
Southern European aesthetics presented in a modern design. "Cronos" offers a wide range of fittings for the washbasin, bidet, bath tub, shower and a variety of bathroom accessories. The form, which runs consistently through all components of the range, personalizes the appearance of the bathroom and creates a distinctly unique character. This range offers an exquisite alternative for lovers of design, who appreciate timeless value.
True to style, the range is offered in the following finishes: chrome, platinum, platinum matt, sunshine, sunshine matt, bronze, mink, gold, antique-gold and the new style, antique-silver. The charm of this surface is the elaborately developed patina coating. Little by little, the antique impression will reveal its fascination.
With the "Cronos" range, the company from Mannheim once again demonstrates its skill and creativity and more than 100 years experience in the production of taps and accessories.
---
Downloads
---