November 30, 2019
Brand New range of fittings "Exal" – Delightfully colorful and dynamic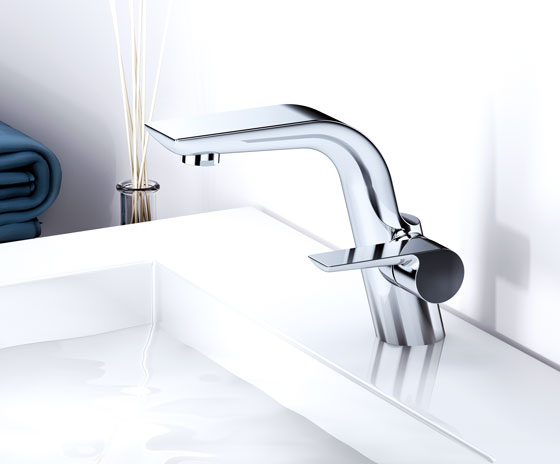 Mannheim / Frankfurt. Color is an attitude to life, a subjective feeling, the expression of emotion. Colors endow the room with a very special effect; which can be achieved holistically or selectively.
The new "Exal" range of fittings and accessories impresses with its clear, flowing design and its diverse, innovative color palette. The elegance of a crane in flight inspired the designer Oliver Jörger to introduce this new product range. The slender, arrow-shaped body and the dynamic flapping wings of this "bird of luck" express harmony and lightness.
The new collection captures this straightforward design in the curved spout of the fitting and continues throughout the range of fittings and accessories. The design of this range has been implemented comprehensively throughout the entire bathroom range - for washbasin, bath, shower and bidet with single-lever mixer.
The individual character of the fitting is further enhanced by the extraordinary color palette. Warm shades, such as high-grade brass, mink or gold, give the fitting a classic and luxurious feel - cold shades, such as chrome or platinum, look puristic, modern. If you are brave enough for color, choose from a dazzling range of surfaces, such as "Candy Violet". These allow the bathroom designer to make a clear statement. The visual highlight creates an individual bathroom ambience with a "Wow!" effect. A total of 18 surfaces are available, all in-keeping with the style.
A major advantage offered by Jörger, is customizing. All metal parts can be adapted to the surface of the fittings, thereby creating an entirely holistic experience in the bathroom.
The "Exal" range of fittings is situated, depending on your choice of surface, in the mid-to-upper price segment, making it equally interesting for first time bathroom planners and renovators and restorers of all ages.
---
Downloads
---