October 7, 2020
Timeless Beauty and Elegance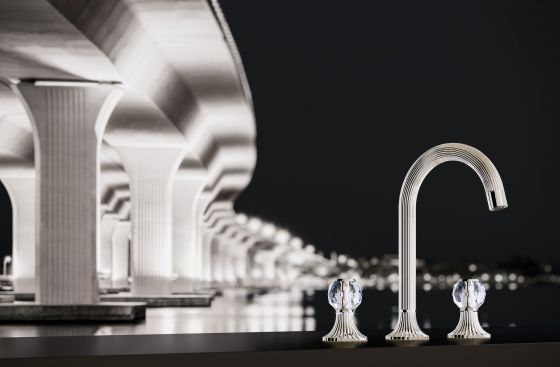 The triumph of ancient beauty, the glitter of crystal and the art of cutting
The columns of classical antiquity with their perfect proportions and elegant reliefs have always inspired architects, stuccoers and jewellers of the Old and New World to create true works of art.

The classically elegant form of Jörger's premium series of fittings "Cronos Crystal" also bears witness to this. Like the fluting of antique columns, fine grooves run across the tap spout and the base body.

This classic form of timeless beauty and elegance is also reflected in artistic architecture. Examples are the Capitol of the United States, St. Paul's Cathedral in London, Kazan Cathedral in St. Petersburg and last but not least Roosevelt Bridge in Florida.

All components of the "Cronos Crystal" series are precisely handcrafted: Each flute is carefully polished so that it appears matt or shiny, depending on the chosen finish.

You have style, you have the choice:  Jörger offers you 19 different surfaces: These include simple, traditional ones such as bronze, sunshine and platinum. There are also more extravagant combinations such as chrome with gold, sunshine with black mink and matt black. "Cronos Crystal" in antique gold is particularly exclusive.

"Cronos Crystal" sets luminous and luxurious accents in the bathroom with tap handles made of sparkling Swarovski crystal balls. Each crystal cut with 96 facets is an expression of masterly craftsmanship and cannot be surpassed in precision.

The design manufactory Jörger presents its premium tap collection "Cronos Crystal" in the two style worlds "Classic and Elegant" and "Luxury and Avantgarde". More about the series "Cronos Chrystal".






---
Downloads
---