August 1, 2013
Bathing Experience with Grandeur and Charm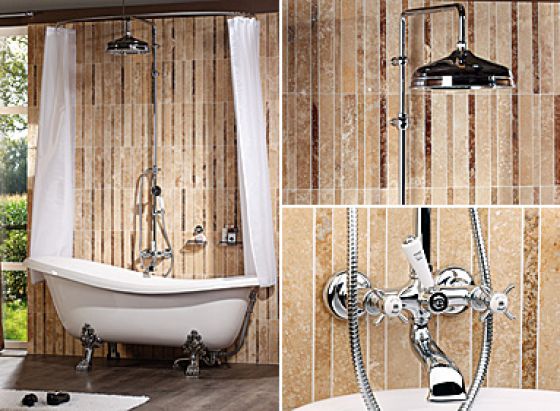 A symbol of the "Belle Epoque" is the bathtub "Delphi", which reflects the splendour and the luxurious way of the life towards the end of the 19th century. The softly rounded form of the bathtub, borne on lion's feet, provides even today a bathing experience full of grandeur.
Lovers of a timeless bathing ambience with historical flair will be drawn to our classical series such as Delphi, Aphrodite, Muschel, Palazzo Crystal, Florale, Lotos, Minarett, Ramses, Albano, Serie 1909 or Delphi-Deco, which we have enhanced with design conform fittings. The system consists of a bath tap and shower attachment and includes a standpipe. The head and hand fittings including mount can be arranged individually. The standpipe system is offered with an extension of 30 and 54 centimetres enabling flexible placement of the bathtub, parallel to the wall or freestanding in the bathroom.
All components are created from high-quality brass. Water flow and temperature are regulated by sophisticated ceramic head parts. All this, including the lion's feet, are supplied with chrome, gold, bronze, platinum, platinum matt, sunshine or sunshine matt. Alongside the washbasin, the shower and bathtub fixtures each collection comes with a range of design conform accessories to further enhance the style of the bathroom and highlight an eye for detail. All our ranges combine nostalgic charm, craftsmanship and modern functionality.
The bathtub, made of a white, high-quality acrylic composite, has a soft, warm feel and, compared to a cast iron bathtub, maintains a pleasant water temperature for a longer period. It is available in the sizes 170 x 80 and 176 x 80 centimetres. Its easy care and durability ensure it fulfils today's requirements.
Alongside these classical ranges Jörger is also well known for modern design collections, which distinguish themselves through straight lines and clear-cut body forms.
---
Downloads
---